Roof Repair From Experienced Specialists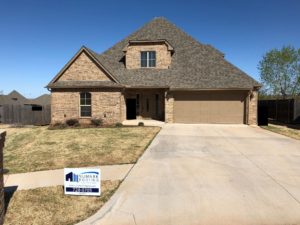 Whether from hail, wind, or a fallen tree branch, roof damage isn't something you want to leave unaddressed for long. In short order, even minor damage, such as a small crack, can allow water infiltration that results in larger, more costly problems. Unfortunately, roof damage is often difficult to detect. However, for homeowners in the Oklahoma City, Tulsa, and northwest Arkansas areas, there's an easy way to tell if a roof repair is in order: Call the Pros.
Call Numark Roofing for a Roof Inspection
Numark Roofing specializes in roof repair and storm restoration for residential homes and can quickly and cost-effectively restore your home's defense against the elements. If you suspect that your roof has damage from wind, hail, or any other reason, simply call us to schedule a free, no-obligation roof inspection. One of our experts will get on top of your roof and assess every detail. Upon completion, we'll review our findings and provide you with our recommendation for roof repair or replacement.
The Roof Repair Process
Roof repair is a specialized process that requires skill and precision to complete correctly. At Numark Roofing, we have experienced crews who focus on roof repairs, ensuring we can always provide the best value. We also take pride in offering flexible, turnkey services and can handle repairs to virtually any type or roofing, including:
Our goal with your roof repair will be to provide a seamless restoration. Our solutions are designed to not only protect your home from roof leaks but also restore its curb appeal.
Service You Can Count On
At Numark Roofing, we prioritize our customers' needs above all else—a practice that has earned us rave reviews and frequent referrals. When you partner with us, we'll always put your best interests ahead of our own bottom line. And we'll do everything we can to make the process as smooth as possible. For example, if you need to file an insurance claim, we can lend you our expertise and help guide you through the process.
For more information about what makes Numark Roofing the premier roof repair company serving homeowners in Oklahoma City, Tulsa, and northwest Arkansas, contact us today.