Navigating the Roof Damage Insurance Claim Process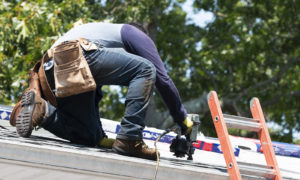 When your roof is damaged in a storm, you have a lot to do and not much time to do it. After all, even minor damage, such as a cracked shingle, might be allowing water into your home where it can cause expensive-to-repair problems down the line. Urgent as the situation is, you shouldn't simply call the first roof repair company you find. What you need is a company that is going to look out for your best interests and take the hassle and guesswork out of the roof damage insurance claim and restoration process. You need Numark Roofing.
Call the Pros
Having handled hundreds of storm restoration projects in the Oklahoma City, Tulsa, and northwest Arkansas areas, Numark Roofing has developed a seamless process for navigating roof damage insurance claims.
Step 1

After a storm hits your area, contact Numark Roofing for your free, no-obligation damage inspection. This step will determine if there is enough suspected damage for your insurance company to come out for a closer evaluation of your property. After the evaluation, your roof inspector from our company will sit down with you and present a detailed report of our findings.

Step 2

If an insurance claim is needed, the next step will be to contact your insurer. At Numark Roofing, we have extensive experience with the roof damage insurance claim process and, while we can't represent you, we can guide you through every step. We'll also meet with your insurance adjuster when they perform your inspection. This is a major benefit to you as a homeowner, as it will ensure that no damage is overlooked and help ensure that you're properly compensated.

Step 3

After Numark Roofing and the adjuster come to a final determination of the damages to the property, the adjuster will leave a scope of work or insurance papers. This is often confusing to a homeowner. Don't worry. We'll make sure you understand the paperwork and will finalize a plan for your roof repair or replacement. We'll review material and warranty options, helping you find the best option for your needs. The insurance company will pay for all work outlined in the insurance papers minus the deductible.

Step 4

After the roof damage insurance claim is finalized, Numark Roofing will commence the work outlined in the contract. Once the project is completed, we will submit the necessary paperwork to the insurance company and request any remaining balance. Here at Numark Roofing, our goal is to make the claims process as stress free for our customers as possible. We use only quality materials and can give the industry's best warranties, all backed by leading manufacturers.
---
Learn More
For more information about how Numark Roofing makes the roof damage insurance claims process as easy as possible for homeowners in Oklahoma City, Tulsa, and northwest Arkansas, contact us today.