An Experienced & Trustworthy Roof Leak Repair Company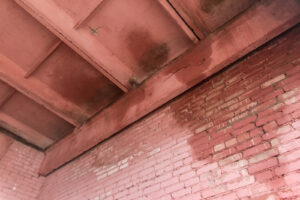 You suspect that your home has a roof leak. But you're busy right now, and a roof repair isn't in the budget, right? Before you put that idea on the back burner, consider the potential damage a roof leak, even a small one, can do to your home. When your roof allows water to seep in, that water can cause structural damage, ruin your insulation and drywall, discolor your ceiling tiles, and even get into your electrical system and potentially start a fire. At Numark Roofing, we can evaluate your roof leak and suggest a plan of action. It could be that a minor roof leak repair is all you need. It's better to tackle the situation now before it becomes a bigger, more expensive issue. We proudly serve homes in Oklahoma City, Tulsa, and northwest Arkansas.
Signs Your Home Has a Roof Leak
Your roof's primary job is to prevent water, whether from rain or snowmelt, from entering your home. But, roofs can deteriorate with age or suffer damage from a storm, and that can cause a leak. If you're wondering if your roof has been compromised, keep an eye out for these common signs of a roof leak:
Water stains on your ceiling tiles or walls
Excess mold or mildew growth on the exterior of your home
Curling or buckling shingles
Wet or rusty pipes
Drips in your attic
While it's important to keep an eye out for signs of a roof leak, finding the source of the leak can be more difficult. The water or damage that you see could be yards away from where the water is entering your home.
Call in the Pros
If you notice signs of a leak, call Numark Roofing for a free, no-obligation roof inspection. We'll find your roof leak and discuss your options for roof leak repair.