Call for a Free, No-Obligation Roof Inspection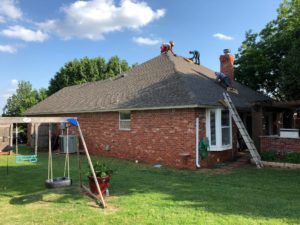 No one ever expects it, but there comes a time when every homeowner must deal with roof damage. And when it happens, it's easy to feel overwhelmed. How bad is the damage? Is it letting water into my attic? How much will it cost to fix? Will my insurance company cover the cost? Whom can I trust to provide a repair? These are all questions swirling around your head. At Numark Roofing, we make it easy to get answers. If you suspect the roof on your home in the Oklahoma City, Tulsa, or northwest Arkansas area has been damaged, start by giving us a call for a free roof inspection.
Why Roof Inspection Is Important
Severe roof damage is easy to spot. For example, your roof might have missing shingles or cracked tiles. However, in most cases, roof damage is more subtle and can easily go undetected to the untrained eye. Unfortunately, ignoring even minor problems can have costly consequences. For example, a small leak might be causing wood rot or mold growth without your noticing. Having a qualified inspector evaluate your roof is the only way to accurately assess its condition.
The Roof Inspection Process
When you contact Numark Roofing, we'll send an experienced roof inspection specialist to your home who will get on top of your roof and perform a comprehensive evaluation. Through this process, we'll identify all damage and its severity. Once complete, we'll sit down with you to provide an honest assessment and detailed report. Most importantly, we'll offer our expert suggestion on what you should do next.
After the Inspection
If the roof damage is minor and your roof is relatively new, we'll likely recommend a repair. However, extensive damage or damage to roofs that are nearing the end of their useful life usually warrants a replacement. Regardless of your situation, Numark Roofing will make sure that you understand all your options. We have experience working on a wide array of roofing systems, so you can be sure that we can help whether you need repair or replacement for asphalt composition shingles, metal, tile, slate, or wood.
Additionally, Numark Roofing can help guide you through the insurance claims process if you require it. While we can't represent you, we can make it easier by ensuring damage to your roof is properly assessed, helping you receive the payout you deserve.
If your roof has been damaged, don't delay. Call the Pros at Numark Roofing today for a free, no-obligation roof inspection.