Hail Damage Roof Repair From Storm Restoration Specialists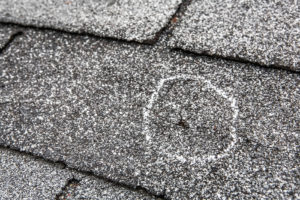 You hear the dreaded sound—hail pummeling your roof. When the storm subsides, you hurry outside to assess the damage it's done. But with an untrained eye, it's difficult to tell if your roof needs attention. What's the next step?  Climb a ladder to inspect every nook and cranny of your roof? Hope for the best? If you live in the Oklahoma City area, Tulsa, or in northwest Arkansas, there's a better solution: Call the Pros. At Numark Roofing, our team specializes in hail damage repair and will make the restoration process as seamless as possible.
---
How Hail Damage Can Compromise Your Home's Roof
In Oklahoma City and northwest Arkansas, hail is a leading cause of roof damage. When it affects your home, it's important to address the problem right away to prevent the damage from spreading and becoming more costly to repair.
Signs of Possible Hail Damage

Hail forms in a variety of shapes and sizes, many of which cause damage to roofing and other exterior components. You might notice issues such as cracked, buckling, or dented shingles. However, except for truly extreme storm conditions, typical hail damage is not visible from the ground and can easily go unnoticed.

Effects of Hail Damage

Even though hail damage can go unnoticed, it can cause shingles and other roofing materials to fail prematurely. What's more, hail damage might allow water infiltration that can go undetected until it causes serious problems, such as mold and wood rot. If you do not get your roof inspected after a hailstorm, it may drive up your repair expenses in the future.

The Importance of Quickly Identifying Hail Damage

Insurance companies enforce time limits in which claims can be filed. These time limits are typically one year, but they can be a little as six months depending on your insurance policy. The insurance carriers prefer a qualified professional contractor to verify damage before a claim is filed to prevent unnecessary claims. Numark Roofing is trained to identify storm damage in accordance with industry standards and we are available to provide service to you!
---
Our Hail Damage Repair Process
Leveraging decades of collective experience with hail damage repair, the experts at Numark Roofing can take much of the stress and hassle out of the process. We'll carefully inspect your roof to accurately identify all damage. Then, we'll provide you with an honest, detailed report of our findings along with our recommendations. If a repair will adequately restore your roof, we'll happily provide one. However, in many cases, hail damage provides homeowners with an opportunity to upgrade their roofing system.
Numark Roofing can't represent you for your hail damage insurance claim. However, we can guide you through the process and help you receive a fair payout. For example, we can meet with your insurance adjuster at your home to ensure all damage is properly identified and that the project is scoped correctly.
---
Using the Finest Roofing Products
At Numark Roofing, we have experience working with all types of roofing materials, including asphalt composition shingles, metal, tile, slate, and wood. We even offer specialty Class 4 Hail Impact shingles from premium brands, such as Malarkey, that will not only provide the ultimate protection for your home, but might also help reduce your homeowner's insurance premiums.
---
Contact Us
Don't trust the roof over your head to just any company. The pros at Numark Roofing have earned rave reviews from customers in Oklahoma City, Tulsa, and northwest Arkansas. Reach out to us today to learn more about our hail damage repair process and to schedule an inspection at your home.