Complete Restoration Solutions for Wind Damage to Roofs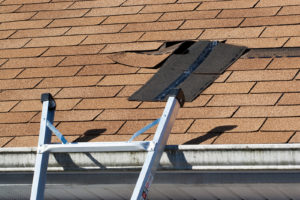 In the Oklahoma City, Tulsa, and northwest Arkansas areas, wind damage to roofs is all too common. Indeed, from minor damage due to strong wind gusts to devastating destruction from tornadoes, wind damage is something most homeowners will have to deal with at some point or another. Fortunately, you don't have to navigate the messy process of roof restoration alone. As the region's most trusted wind damage repair company, Numark Roofing will help you every step of the way and ensure your home's defense against the elements is fully restored.
---
Signs of Wind Damage to Your Roof
Wind damage to roofing systems comes in a variety of forms. Sometimes it's obvious and easy to detect from the ground while other signs are more subtle and require a trained eye to spot. Some of the most common signs of wind damage to roofs include:
SHINGLES

Missing or blown-off shingles
Torn or curled shingles
Lifted or loose shingles
Exposed nails
Leaking roof
Broken shingle seals
Creased shingles

FLAT COMMERCIAL ROOFS

Complete or partial blow-off
Insulation that's unattached or shifted
Weakened attachment of the roof membrane
Popped and exposed fasteners
Perimeter metals lifted or creased
Leaking roof
---
Repairing Wind Damage to Your Roof
At Numark Roofing, we have extensive experience restoring all kinds of wind-damaged roofs, from asphalt composition shingles and flat roofing to roofs crafted from metal, tile, slate, and wood. Our process starts with a free, comprehensive inspection, during which we'll accurately asses your roof's condition and present our findings and recommendations. If wind damage to your roof requires an insurance claim, we can help you with the process. While we can't represent you, we can guide you through the process, meet with your adjuster, and ensure the project is scoped properly, thus helping you receive a fair payout.
Once your insurance claim is finalized, Numark Roofing's experienced roofing team will get to work restoring your roof. We're proud to use only the best materials that are covered by industry-leading warranties from premium brands, such as Malarkey, GAF, and TAMKO. We can even upgrade your home protection with products designed to provide superior defense against hail and wind, which might help reduce your homeowners insurance premiums.
---
Call the Pros
If you're dealing with wind damage to your roof, there's no reason to stress. The experts at Numark Roofing are here to provide a seamless restoration experience. Contact us today to schedule your free inspection. You'll soon see what makes us the premier storm restoration company serving the Oklahoma City, Tulsa, and northwest Arkansas areas.