The Roofing Contractor Homeowners in Yukon, OK, Turn to for Exceptional Service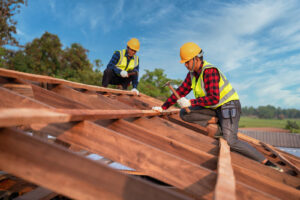 Yukon, Oklahoma, is a place like no other. It has the Oklahoma Czech Festival every year. It has beautiful Clydesdales. It can even claim one of country music's biggest names. But more importantly, it's where you make your home. But, living in Oklahoma also comes with some pretty intense weather. Over time, that weather can take a toll on your home's roof. If your Yukon, OK, home needs roof repair or replacement, Numark Roofing is the local roofing contractor you can trust. Call the Pros!
Roofing Services We Offer
At Numark Roofing, we understand what it takes to have a reliable roof in our area. We're a local company with roots in the region. We also know that there is no "one-size-fits-all" solution when it comes to roofing. Depending on what your home needs, we can offer:
Storm Damage Roof Repair – We're experienced with hail and wind damage repair and can even guide you through the insurance claim process if you'd like.
Roof Repair – If your roof isn't badly damaged, a repair might be smarter than a full roof replacement. We can fix any kind of roof damage.
Roof Replacement – Badly damaged or worn roofs may need to be replaced. We offer a wide selection of roofing material options, including asphalt composition shingles, wood shake, tile, metal, and slate.
Service Centered on You
At Numark Roofing, we put our focus on your, the homeowner. Let us come to your home for a complimentary roof inspection. By taking the time to understand your needs, budget, and preferences, we can make your roof look and perform its best. Numark Roofing—we're the roofing contractors of choice in Yukon, OK.