Storm Damage Roof Repair Specialists Serving Homeowners in Rogers, AR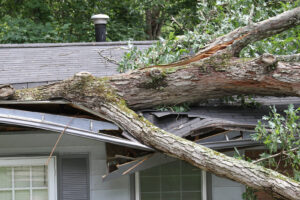 When a storm rolls through, you take cover in your home. That's one of its primary jobs—to protect you and your family. It does its job well as the wind, rain, and even hail pummel your home. The next day, when the skies clear, you scan your home, looking for signs of damage. Sure enough, you see broken, twisted, and missing shingles on your roof. It's time to call in Numark Roofing to assess the damage to your Rogers, AR, home and develop a storm damage roof repair plan to get your roof in top shape once again.
Recognize the Signs of Storm Damage
Not all roof damage from storms is easy to see, but it helps if you know what to look for. Here are some of the recognizable signs of storm damage:
Hail Damage
It's no secret that chunks of ice falling from the sky at speeds reaching anywhere from 20 mph to almost 100 miles per hour is hard on your roof. After a hail storm, you may see shingles that are dented, cracked, or buckling. You may not be able to see the damage from the ground, so it's a good idea to get a closer look with a ladder or, better yet,call in a roofing contractor for a professional roof inspection.
Wind
Wind damage to your roof can be obvious or subtle. Strong winds can get underneath your shingles, ripping them upward. After a wind storm, look for missing, torn, or curled shingles. You may also see exposed nails or broken shingle seals. The damage does not have to look severe to lead to significant issues in your home.
Any damage to your roof can cause water to get through and leak into your home. That, in turn, can cause expensive damage to your home's interior. If you suspect your roof has storm damage, let us take a look at it. We'll let you know if your roof is fine or if it needs a repair or complete roof replacement.
Contact Us
Contact Numark Roofing today, and we'll take care of any storm damage roof repair your Rogers, AR, home needs and make your roof as good as new. We can even help guide you through the insurance process, so your claim gets the return you deserve.