An Honest Roofing Company for Hail Damage Repair in Rogers, AR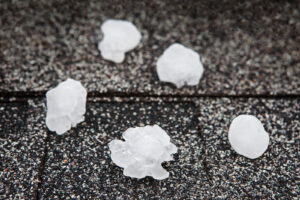 According to the National Weather Service, the largest hailstone ever recovered in the United States was eight inches in diameter and weighed nearly two pounds. The larger it is, the faster it falls. Larger hailstones can fall at speeds of over 70 miles per hour. Living in Rogers, Arkansas, you can expect at least a couple of storms that bring hail each year, and that hail can wreak havoc with your roof. At Numark Roofing, we use our decades of experience to restore hail-damaged roofs for homeowners just like you.
Repairing Hail Damage
At Numark Roofing, our team has decades of experience. We'll strive to make your hail damage repair as stress-free as possible. The first step is to inspect your roof to assess the extent of your damage. If we can repair it and save you money, we will provide a quote. But, if your roof is older or the damage is more severe, you may be able to upgrade your roof and have your homeowners' insurance cover most of the bill.
We can even guide you through the insurance claim process to help you receive the payout you deserve. If needed, we'll meet with your insurance adjuster to ensure that all damage is properly noted.
Whether it's hail damage repair or a full roof replacement, we only work with the finest roofing materials, so your roof will be as good, if not better, than it was before it suffered hail damage.
Call Us First
If you suspect that your roof has hail damage, contact Numark Roofing first. We're the trusted roof repair and roof replacement company serving homeowners in Rogers, AR.