Protect Your Rogers, AR, Home With Strong, Beautiful Concrete Roofing Tiles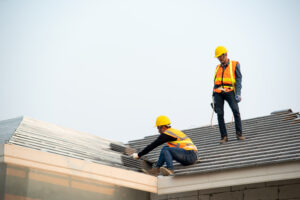 You like for your home to stand out. Perhaps you've seen some homes with concrete roof tiles and discovered that you like that look. It is definitely a style that can differentiate your home from others in your neighborhood. What's more, a concrete tile roof will outlast your neighbors' roofs. To really make your Rogers, Arkansas, home stand out in the crowd, look to Numark Roofing for a new, concrete tile roof.
Benefits of Concrete Roof Tiles
If you haven't noticed any houses with concrete roof tiles, you soon will. It's becoming an increasingly popular choice for homeowners in our area. Some of the reasons that local homeowners are opting for concrete tile roofing for their roof replacements include:
Durability – A properly installed concrete tile roof can last more than 50 years and is resistant to high winds, insects, fire, and rot.
Curb appeal – Concrete tile roofing provides a distinctive look for your home. We offer concrete tiles in a wide variety of styles and colors.
Energy Efficiency – A new concrete tile roof can actually boost your home's energy efficiency, potentially saving you money on your energy bills.
Fast installation – Concrete tile roofs can be installed quickly.
Eco-friendly – Concrete tiles are made from recyclable materials.
Low-maintenance – Concrete tiles require minimal maintenance and should one become damaged, they are quick and easy to replace.
A roof is only as good as its installation. For expertly installed roof tiles, you'll want to be sure to hire an experienced, professional roofing company. Numark Roofing is accredited with the Better Business Bureau and maintains an A+ rating for our dedication to exceptional quality and customer service.
Learn More
Contact Numark Roofing to learn more about why concrete roofing tiles are the smart choice for your Rogers, AR, home. When it comes to your home and your roof, "Call in the Pros!"