Trusted Professionals for Asphalt Shingle Roofing in Rogers, AR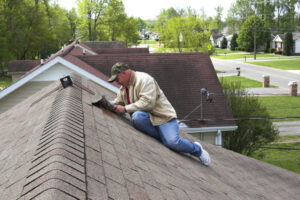 When you look around your neighborhood, most of the roofs you see are probably asphalt shingle roofing.  In fact, over 75% of all residential roofs in America are made with asphalt shingles. The reason for this is simple.  Asphalt shingle roofing offers excellent value because it is affordable and yet very durable. Today, you can find asphalt shingle roofing in a wide variety of styles and colors.  At Numark Roofing, we offer high-quality shingle roofing that will protect your Rogers, AR, home for years to come and look great while doing it.
Benefits of Asphalt Composition Shingles
No homeowner enjoys the prospect of a roof replacement, but it truly is an opportunity to improve your home's curb appeal and thermal performance. At Numark Roofing, we'll help you make the most of your roof replacement project with premium asphalt composite shingles that lead the industry in terms of:
Beauty –Our products are available in a multitude of colors and styles to suit your tastes, and they have features like fade-resistant finishes to ensure they look great for years.
Durability – We offer roofing that is ideally suited to the local climate, including options with Class 4 hail impact resistance to protect your home during even the most extreme weather conditions.
Warranty – Our asphalt shingles come from the industry's most trusted brands, such as GAF, Malarkey, TAMKO, and CertainTeed. You can rest easy knowing your investment is protected with ironclad, no-nonsense warranties.
Numark Roofing is a highly certified roofing company with experienced roofing crews who always go above and beyond for our customers. We approach each new project as a unique situation and strive to tailor our solutions to perfectly fit your home and budget.
Contact Us Today
Put the asphalt shingle roof replacement project for your Rogers, AR, home in the hands of the area's most trusted roofing contractor. Contact Numark Roofing today for a free, no-obligation consultation and quote.