The Only Roofing Contractor to Trust in Oklahoma City, OK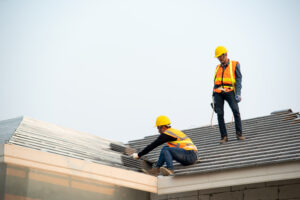 Have you been on the hunt for a reputable roofing contractor you can count on to complete a job at your home in the Oklahoma City, Oklahoma, area? If so, you can confidently end your search with Numark Roofing. We have become the area's local roofing experts thanks to the consistently exceptional projects we complete, and we are eager to do the same for you.
Roof Replacements
When your roof has reached the end of its lifespan, you can count on us to install a high-quality new one that will exceed your expectations. We aim to provide a roofing system that will work for all those we serve regardless of aesthetic preferences and functional requirements, which is why our selection includes options such as asphalt shingle, wood, metal, tile, and slate roofing.
Roof Repair
For roofs that don't quite need to be replaced, we offer roof repair services to restore their beauty and performance. We'll take great care to repair every damaged area of your roof so that it provides the protection you deserve for your home.
Storm Damage Repair
We also can provide assistance to those whose roofs have been damaged due to inclement weather. Not only can we expertly repair storm damage, but we can also use our extensive experience to help guide you through the often-confusing insurance claims process to ensure you get the compensation you deserve.
Ready to Get Started?
If it's time to have a roofing project completed at your home in the Oklahoma City, OK, area, partner with one of the leading local roofing contractors and contact Numark Roofing today. We would be happy to tell you more about our industry-best products and craftsmanship, as well as get you scheduled for your free roof inspection and consultation.