The Local, Trusted Roofing Contractor Serving Homeowners in Fayetteville, AR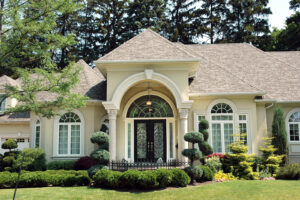 Fayetteville, Arkansas, is a beautiful place to live. Surrounded by the Ozarks and the Boston Mountains, it's a great place to enjoy nature by getting out on the hiking and biking trails. However, while the climate is temperate year-round, you still get some rough weather. Hail and wind storms come through frequently enough, and when they do they can do serious damage to your home—especially your roof. Whether you need a roof repair or a complete roof replacement, turn to the pros at Numark Roofing. We're a local roofing company that understands how to help your home stand up to the Arkansas weather.
Our Roofing Services
At Numark Roofing, we are a local company and that knows there is no "one-size-fits-all" solution when it comes to roofing. We take pride in working with our customers to find the best solutions for their homes and their unique situations. Depending on what your home needs, we can offer:
Roof Repair – In some cases, a repair might be smarter than a full roof replacement. We can fix almost any kind of roof on any kind of home.
Storm Damage Roof Repair – We can handle hail and wind damage repair, and can even help to guide you through the insurance claim process.
Roof Replacement – If your roof is older or badly damaged, a roof replacement may be the wisest move. We offer a wide selection of roofing material options, including asphalt composition shingles, wood shake, tile, metal, and slate.
Contact Us Today
To learn more about our professional roofing services for homeowners in Fayetteville, AR, contact Numark Roofing today. When it's your home that needs reliable roofing solutions, don't settle for just any roofing company. Instead, "Call in the pros!"