The Trusted Roofing Contractors Serving Homeowners in Edmond, OK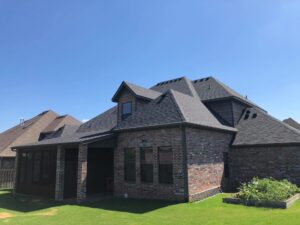 You love your hometown of Edmond, Oklahoma. And why wouldn't you? It's got everything you need with the city close by, but it's small enough to keep that small-town feel. You have nearly 200 restaurants close by, and Buddy, the lovable blue hippo always hanging out downtown. There is plenty to do in Edmond, but at the end of the day, you come home to a house that you love just as much as you love your town. When it comes to working on your roof, don't trust it to just any roofing company; turn to Numark Roofing, a trusted local roofing contractor.
Our Roofing Services
Numark Roofing is a full-service roofing contractor. We work with you to understand your home and your roof before making any suggestions. If you suspect your roof needs attention, we'll inspect it and offer one of our roofing services such as:
Roof Repair
Not all damaged roofs need to be replaced. If your roof is in need of repair, we'll look for the most cost-effective but high-quality roof repair option. We have experience working with all kinds of roof materials, so you can rest assured that we know what it takes to get yours in great shape again.
We get our fair share of storms in Oklahoma, and they can be hard on your roof. We can fix roofs damaged by high winds or hail, and if you need to file an insurance claim, we can guide you through that process.
Roof Replacement
If your roof is too badly damaged or worn down, a roof replacement might be the best investment. We install a wide selection of roof styles, including asphalt composition shingles, slate, tile, metal, and wood shake.
Get Your Free Consultation
Contact Numark Roofing for your free roof inspection and consultation. We'll work with you to find the best solution for your Edmond, OK, home. Don't trust your home to just anyone—"Call the Pros!"