Your Source for Expertly Installed Concrete Roof Tiles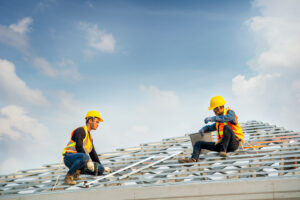 You know what you want for your home. You've seen concrete tile roofs, and you love that look. While concrete tiles are a great choice for your home, they are one of the more difficult roofs to install, which means you need to find a professional roofing company with the knowledge and experience to do the job right. At Numark Roofing, we have installed hundreds of roofs in Oklahoma and northwest Arkansas, including concrete roof tiles.
Reasons to Love Concrete Roof Tiles
Concrete tile roofing is increasingly popular in our area, and for good reasons. It's a great look for any home, and it's exceptionally durable. A properly installed concrete tile roof can last more than 50 years. It's also able to withstand high winds and hail and is resistant to fire, insects, and rot. What's more, it's  easy to maintain.
Concrete tile roofing is available in a variety of styles and colors that will immediately upgrade the curb appeal of your home. Not only that, it can help your home be more energy efficient.
For expertly installed roof tiles, you'll want to be sure to hire an experienced, professional roofing company. Numark Roofing is accredited with the Better Business Bureau and maintains an A+ rating for our dedication to exceptional quality and customer service.
Contact Us
Contact Numark Roofing to learn more about concrete roof tiles for your home. When it comes to concrete tile roofing, "Call the pros!"