Professional and Experienced Slate Roofing Contractor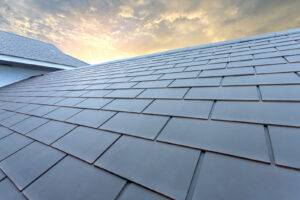 If your home is ready for a new roof, you have a lot of options. Have you considered slate roofing? It's smart for homeowners who expect to stay in their homes for a long time and don't want the hassle of putting on a new roof every 15-20 years. Keep it on your radar if you haven't considered slate roofing before now. Numark Roofing has installed hundreds of roofs in Oklahoma and northwest Arkansas, including slate roofing. We are a slate roofing contractor with the experience and the team to do your roofing project right!
Why Choose Slate Roofing?
Your roof's main purpose is to protect your home. Natural slate roofing does that exceptionally well. While it is a bit more expensive than some other roofing materials, slate roofing offers benefits that make it worth the investment. Some of these benefits include:
Longevity – A slate roof can last well over a century! You'll never need to replace your roof again.
Beauty – Slate roofing is eye-catching and elegant. With many sizes, shapes, and colors to choose from, you can select the perfect look to maximize your home's curb appeal.
Fire resistance – Slate is natural rock, so it is one of the most fire-resistant roofing materials you can get.
Environmentally friendly – Slate is natural and lasts an exceptionally long time. That means there's no waste heading to the landfill.
Energy efficiency – Because of its density, slate roofing can create an effective barrier against heat transfer, making your home more energy efficient.
Minimal maintenance – No significant maintenance is needed to keep your slate roof looking great.
Installing a slate roof takes an experienced roofing team. Numark Roofing is a professional slate roofing contractor that knows how to install your slate roof for maximum benefits.
Learn More
Contact Numark Roofing, the premier slate roofing contractor serving Oklahoma and northwestern Arkansas, to learn more.