Where to Find a Skilled Roofing Contractor Serving Nichols Hills, OK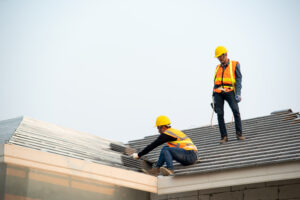 When homeowners in the Nichols Hills, Oklahoma, area need a trustworthy roofing contractor, they turn to the experts at Numark Roofing. We are known throughout the area for providing the industry's best roofing systems and flawless craftsmanship for all the homeowners we serve, and we are ready to do the same for you. No matter the kind of attention your roof needs, we are the team to count on for a job well done, and we'll provide you with dedicated customer service and transparent communication every step of the way.
How Can We Help?
When you partner with Numark Roofing, you can be sure you'll receive the ideal roofing services and products for your home. We can conduct a roof inspection so that we have an accurate understanding of your roof's condition. From there, we can perform a:
Roof repair – Our skilled roofers can restore your roof, fixing all problem areas and ensuring it has what it takes to keep your home protected from the elements.
Storm damage roof repair – We also specialize in repairing roofs that have been damaged in a storm. We can repair your hail and wind damage, and we can even provide you with guidance to help you navigate the insurance claims process.
Roof replacement – If your roof's damage is beyond repair, we can install a new one that will stand the test of time. We are highly experienced in installing a variety of roofing types, from asphalt to metal to slate and more.
Learn More
Interested in learning more about why Numark Roofing is the right roofing contractor to serve your Nichols Hills, OK, home? If so, contact us today to speak with a member of our team, who would also be happy to get you scheduled for a free roof inspection and consultation.