The Experienced Roofing Contractor for Flat Roof Replacement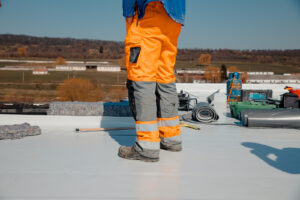 Flat roofing has been around since the days of ancient Egypt and Persia. In recent decades, it has become a popular choice for modern buildings. If your business has a flat roof, you may not know where to turn to get a roof replacement. Look no further. Numark Roofing is a professional roofing company with extensive industry experience and a staunch commitment to excellence. We know that a roof is an important investment, so we work hard to ensure that you receive the utmost value for it. In fact, our dedication to customer satisfaction and quality has earned us countless rave reviews and an A+ rating with the Better Business Bureau, so you can rest assured we're the right company to partner with for your upcoming roof replacement.
The Benefits of Flat Roofing
Flat roofing is an increasingly favorable type of roofing, thanks to the many benefits that it provides. For instance, it is:
Affordable – Flat roofs take up less space and therefore require less material than sloped roofs. This makes the initial construction costs more economical and repairs less expensive.
Energy efficient – Flat roofs are more energy efficient than sloped roofs because they have a membrane system applied on tops of rigid sheets of insulation. The absence of gaps consequently blocks the passage of air.
Versatile – Some people choose to utilize their flat roofs in ways that you simply can't with a sloped roof, such as creating a deck or garden area.
Easier to maintain – Flat roofs are more accessible than other types of roofs, so you'll be able to inspect for damage and leaks and clean them far easier.
Your Trusted Roofing Partner
At Numark Roofing, we don't want to sell you a roof. We want to work with you to tailor a roof that fits your goals and your needs. Even if you have a flat roof, which is any roof with a 10-degree pitch or less, you have options. We take a consultative approach to your flat roof replacement. We want to learn about your business and provide you with the options that will be best for you situation.
Our professional roofing installers are all factory trained and certified, so they know exactly how to install the type of roof they are working on at all times. They take great pride in their craftsmanship and pay attention to every detail. This makes the difference between a roof you can rely on versus one that may need attention just a few years down the road.
Additionally, we offer expert roof inspections and repairs for all types of roofs, including flat roofing, so you can consider us your one-stop shop.
Let's Get Started
If your business needs a flat roof replacement, contact Numark Roofing today. We'd be happy to answer any questions you may have and schedule your no-obligation consultation. We are proud to serve residents of Oklahoma City, OK, and the surrounding areas.